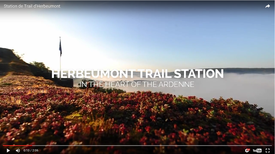 With tracks from 8 to 30 km, enjoy trail in the heart of the Semois valley.

Trail station, trail circuits with some technical singletracks and training circuits, workshops, events, ... are waiting for you at Herbeumont.
The site and the tracks are permanently open.
Cherry on the cake, the Festival Trail Semois, "probably the most festive trail" is organised at Herbeumont early July each year. See http://www.festival-trail-semois.be for all information.